The late Pulitzer Prize-winner David Halberstam — in The New York Times bestseller "The Teammates" — talks with drama and passion of a group of close friends whom baseball brought together.  In early October 2001, Halberstam writes, Boston Red Sox legends Dominic DiMaggio and Johnny Pesky began a 1,300-mile trip by car to visit their beloved friend in Florida, Ted Williams, whom they knew was dying. Bobby Doerr, the fourth member of this close group–"my guys," Williams used to call them–was unable to join them. Driving the car most of the way was another friend of the group, albeit not a Red Sox "teammate" – Dick Flavin.
The book is filled with historical details and first-hand accounts  about baseball and about something more: the richness of friendship.
DiMaggio and Pesky are gone now; Doerr is nearing 100 years old and lives in Los Angeles.  Dick Flavin owns a Red Sox World Series Championship ring as a public address announcer at Fenway and has been annointed as the official Red Sox Poet Laureate.  His own book of verse, "Red Sox Rhymes," was itself a New York Times bestseller, and as a former Boston television personality and later as the narrator of "The Teammates," an ESPN documentary that was nominated for three 2004 Emmy Awards, Dick was inducted in 2015 into the Massachusetts Broadcasters Hall of Fame.
Now, he has contributed this autographed and framed photo of Pesky and DiMaggio to our 2017 Hall of Fame "Celebrity" auction. It's a collector's item without compare.
From Wikipedia — Pesky was a shortstop and third baseman during a ten-year major league playing career, appearing in 1,270 games. He was associated with the Red Sox for 61 of his 73 years in baseball—from 1940 through June 3, 1952, 1961 through 1964, and from 1969 until his death in 2012. Pesky also managed the Red Sox from 1963 to 1964, and in September 1980. A left-handed hitter who threw right-handed, Pesky was a tough man for pitchers to strike out. He was the first American League player to score 6 runs in a 9 inning game. As a hitter, he specialized in getting on base, leading the league in base hits three times—his first three seasons in the majors, in which he collected over 200 hits each year—and was among the top ten in on-base percentage six times while batting .307 in 4,745 at bats as a major leaguer. He was also an excellent bunter who led the league in sacrifice hits in 1942.
DiMaggio, nicknamed "The Little Professor," played his entire 11-year baseball career for the Red Sox (1940–1953). He was the youngest of three brothers who each became major league center fielders, the others being Joe and Vince. An effective leadoff hitter, he batted .300 four times and led the American League in runs twice and in triples and stolen bases once each. He also led AL center fielders in assists three times and in putouts and double plays twice each; he tied a league record by recording 400 putouts four times, and his 1948 totals of 503 putouts and 526 total chances stood as AL records for nearly thirty years. His 1338 games in center field ranked eighth in AL history when he retired. His 34-game hitting streak in 1949 remains a Boston club record.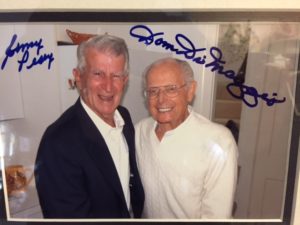 /wp-content/uploads/2015/01/logo-for-web1.png
0
0
Burt Peretsky
/wp-content/uploads/2015/01/logo-for-web1.png
Burt Peretsky
2017-03-05 13:31:12
2017-03-05 13:38:22
Dick Flavin Donates Red Sox "Teammates" Pic to Hall of Fame Auction